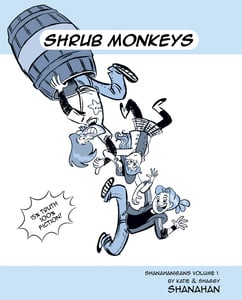 $

12.00 - On Sale
Orders ship on Fridays via Canada Post. Please allow 1-2 weeks for delivery.
~~~~~~~~~~~~~~~~~~~~~~~
CUSTOMIZED: comes with a sketch and signature from the creators on the inside title page. PLUS 1 of 3 postcards:


(click to view bigger)
Let us know in the paypal order form if you'd like us to personalize this comic to you or that special someone!
If paypal doesn't let you do so please email us right after ordering at shanahanigans.live@gmail.com
(If you DON'T want it personalized, just leave everything as is and we'll leave names out).
~~~~~~~~~~~~~~~~~~~~~~~
It's the definitive Shrub Monkeys collection!
Take a trip back with the Shanahan Siblings: Toronto cartoonist Ktshy, her brother Shaggy (aka Shagster) and sister Hes.
School, work, animation, conventions, video games. It's all here.
Shanahanigans Volume 1: SHRUB MONKEYS contains 120 colour pages of the original webcomics, extra shorts, and creators commentary.
~~~~~~~~~~~~~~~~~~~~~~~
For more comics, info and updates head over to shanahanigans.com